Secret Garden @ Maya Brasserie
Feast with Your Family & Loved Ones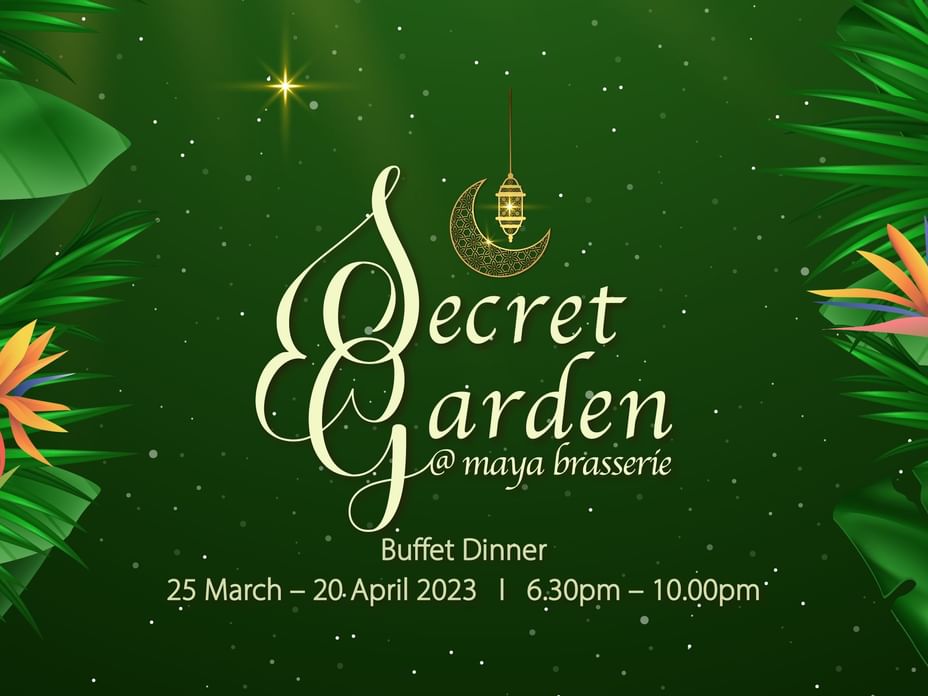 We invite you and your loves ones to explore our culinary delights to welcome the holy month of Ramadan. A flavourful journey showcasing recipes from Malaysia's diverse regions awaits you at Maya Brasserie, with signature dishes like Salmon Fish Head Curry Nyonya Style and Chili Mud Crab. A selection of local fare will tantalize your tastebuds with dishes like Ikan Patin Tempoyak, Ayam Rose Mak Bie, Telur Itik Masak Lemak Belimbing Buloh and Daging Salai Masak Lemak Cili Api.
Additionally, the spread of Indian, Thai and Arabian food stalls will also delight your gastronomy such as Nasi Arab Yemen and Kambing Bakar, Murtabak Ayam, Satay and Somtam. Highlights not to be missed in the festive buffet dinner include the Bihun Sup Utara, Kerabu Soo Hoon, Kerabu Maggi, Char Kway Teow and Ketupat Palas.
Secret Garden Buffet Dinner @ Maya Brasserie will be available from 25 March – 20 April 2023, 6.30pm – 10.30pm. Early bird pricing for the periods of 18 – 28 February are RM69+ and 1 – 20 March are RM79+. Normal pricing is RM95+ per adult and RM65+ per child and senior citizen.
To make a reservation, call or WhatsApp 011-2880 6909
The promotion is valid till 20 April 2023
All prices are in Malaysian Ringgit and subject to 6% Service Tax.
Discover Other Promotions